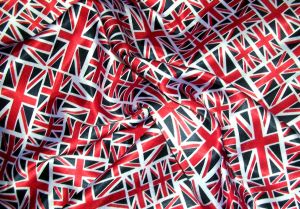 Are you having a party for the Jubilee weekend?  Need a last minute recipe? Check out the links below for great Jubilee recipe ideas:
Jubilee Ham
Gammon joint roasted with a cherry glaze – from Tesco Real Food
Diamond Jubilee Chicken
"Update Coronation chicken with this salad of mild spices, apple, walnuts, yoghurt sauce and pomegranate" – from BBC Good Food
Three-pea and Wensleydale Salad
"Toss together the pea shoot salad, sugar snap peas, petit pois, spring onions and most of the cheese in a large bowl." – from Tesco Real Food
Salsa Verde Jersey Royals
"Royals are the kings of new potatoes." – from the Jewish Chronicle
Fruity Flag Tray Bake
"A fail-safe sponge that's easier than it looks – almonds and yoghurt keep it moist while its fruity decoration is suitably patriotic" – A Mary Berry recipe
Strawberry Lemon and Cream Cupcakes
"Summer in a cupcake case with lemon sponge, sweet whipped cream and sticky lemon curd, all topped off with a juicy strawberry" – – from the Good Food Channel
Blueberry and Coconut Pudding
A fruity zesty sponge pudding – original recipe from Easy Cook magazine
Cherries Jubilee with Panna Cotta
"Celebrate the jubilee or any royal celebration with this dessert – originally served to Queen Victoria for her own jubilee by famed chef Auguste Escoffier" – by Matthew Tomkinson
Jammy Jubilee Diamond Biscuits
"Bring some nostalgia to your Jubilee celebrations with these delicious jammy biscuits." – from Red magazine online
Very Berry Pimms
"Celebrate the Jubilee and the summer months in style with this berry version of Pimms – the fruit is refreshingly delicious and so is the Pimms!" – from Good to Know recipes
Whatever you're doing this weekend, I hope you have fun!
recipe
,
round up