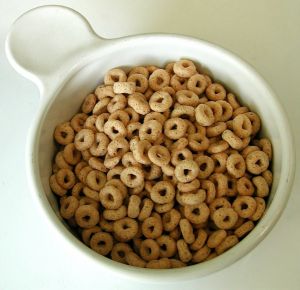 I get Which? magazine – the consumer magazine that reviews all sorts of products independently – from electrical items to financial products to food. A while ago a little card came with the magazine to put in your handbag which has a summary of the levels of sugars, fat, saturates and salt which are the considered high, medium and low per 100g, i.e the government recommendations.
The idea is that you can use it to check against food labels when you go shopping.  It was this little card that first made me aware of what is considered to be a high sugar content in food.
The figures are, per 100g, less than 5g is low, between 5-15g is medium, and above 15g is high.
I picked up my husband's favourite breakfast cereals and pointed out that despite the green tick for wholegrain on the front and the multitude of vitamins, the cereals were high in sugar.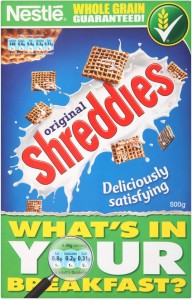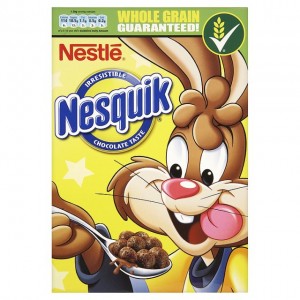 Shreddies have 14.9g of sugar per 100g (borderline high) and Nesquik has 35g of sugar per 100g (very high!)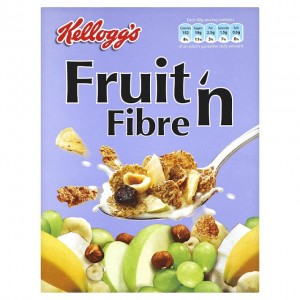 I then picked up my own favourite cereals which nominally looked a lot healthier –  bran, oats and muesli and the like – and was a little surprised to find that they were nearly as bad, and still classed as high in sugar.
Fruit n Fibre, probably the cereal I've eaten the most over the last few years has 24g of sugar per 100g (also rather high.) Some of this is from the dried fruit content but even so it's still a lot of sugar.
Only the plainest of plain cereals seem to fall below this marker. Very boring cereals like Shredded Wheat (who's for cardboard?) and porridge which is more palatable with the addition of…sugar!
It worries me firstly that these products are marketed as being the healthy way to start the day despite having as much sugar as half a chocolate bar, and secondly that a large proportion of this marketing is aimed at children.
Having consumed vast amount of Coco Pops and other similar cereals as a child I know for a fact that cereal choice for children is based on the cereal packaging and closest possible taste to confectionery that you can persuade your parents to buy. Oh,  and the free gift in the packet in my day – I don't think they do those as much any more.
So half the nation goes to work or school and does a morning's work on a bowl of sugary vitamins.
It may be quick and easy, it may contain some wholegrains and vitamins – but are we doing ourselves more harm than good? Bring back bacon and eggs…
cereal
,
sugar