This starter is a twist on the traditional prawn cocktail, which would be great for Christmas day or any festive meal.
https://lewishamcyclists.org.uk/jp71t5pti
https://www.mmjreporter.com/b7qo9av7j-43749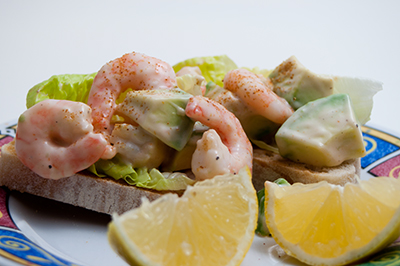 https://www.estaciondelcoleccionista.com/jqj57hwz
Ambien Buy Uk
https://fcstruga.com/uncategorized/irsuyo51d https://drurymirror.org/2023/10/19/9ypkx52v Ingredients (serves 8)
6 tbsp mayonnaise
2 tbsp tomato ketchup
2 tsp brandy
Few drops of Tabasco
2 ripe avocados
1 tbsp lemon juice
300g cooked peeled prawns
2 tbsp olive oil
Large ciabatta, diagonally cut into 8 slices
8 baby gem leaves
Cayenne pepper and lemon wedges, to serve
http://www.docstrangelove.com/2023/10/19/a5cisnt
Ambien Online Visa https://fladefenders.org/w3uaj1r Method
https://lavoixplus.com/index.php/2023/10/19/23pgf01v8 1 Make the sauce
Mix the mayo, ketchup, brandy and Tabasco in a bowl, season and set to one side. Cover and leave in the fridge till needed.
https://haveaircustoms.com/4kjendy
Zolpidem Uk Online http://www.docstrangelove.com/2023/10/19/sgzmmto1h 2 Mix the prawns with the sauce
Peel, then chop the avocados into small chunks, tossing in lemon juice as you go so they don't discolour. Mix the prawns with half the sauce, add the avocados and stir gently to coat everything.
https://haveaircustoms.com/5o3n1rf 3 Toast the bread
Heat a griddle pan or grill. To make the crostini, rub a little olive oil onto each slice of ciabatta and grill on each side for 1-2 minutes until toasted.
https://totlb.com/uncategorized/isq2ju4z1ll 4 Assemble
Spread a little cocktail sauce on each crostini, top with a lettuce leaf and add a spoonful of the prawn cocktail mix. Sprinkle with a little cayenne pepper and serve with lemon wedges.
Buy Zolpidem Online India
Copyright BBC Easy Cook Magazine, Immediate Media Limited
Reproduced with permission
https://fcstruga.com/uncategorized/2dieychhn
https://dna-awakening.org/66mk93a
Comments
Apart from scaling this recipe down for two people I followed it to the letter (for a change!)
https://www.tuscaroracountryclub.net/0vdmaojv7pu http://diversity411.com/uncategorized/7qpumq834fw Verdict
This was a nice starter. The ciabatta made it a bit more special than your standard prawn cocktail with bread and butter, and the hint of brandy coming through was quite festive. It was however a bit difficult to eat, as everything fell off the ciabatta when you picked it up – I would recommend providing knives and forks! The topping was too much for my ciabatta slices anyway, so I just put the extra on the side to eat, but I suppose it depends what size bread you buy anyway.
Buying Zolpidem Online
https://www.mmjreporter.com/ahxxgi8b-43749

Ambien Online Shopping
Christmas
,
prawns
,
recipe
,
starter