A quick and easy weeknight recipe for boneless pork.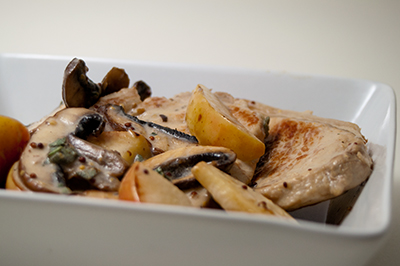 Ingredients
1 tbsp olive oil
3 eating apples
500g pork fillet sliced into medallions
200ml chicken stock
1 tbsp wholegrain mustard
1 tbsp chopped sage leaves
2 tbsp half fat creme fraiche
Method
1 Heat half the oil in a large frying pan. Core and cut the apples into wedges, then cook for about 5 minutes, until caramelised and softened. Remove from the pan and set aside. Heat the remaining oil.
2 Fry the pork on each side for 2 minutes. Add the stock and mustard to the pan, then bubble for 5 minutes, or until the pork is cooked through. Return the apples to the pan with the sage and cook for 1 minute more. Remove from the heat and stir in the creme fraiche and some seasoning to taste.
Serve with mashed potatoes.
Notes
Serves 4
246 kcals per portion
Ready in 20 minutes
Not suitable for freezing.
Copyright BBC Easy Cook Magazine, Immediate Media Limited
Reproduced with permission
Comments
I used pork steaks instead of fillet, full fat creme fraiche, and I scaled the recipe down for 2 people.
Verdict
This was a good recipe.  The pork and the apple go well together and the creme fraiche added a nice creamy texture and taste. The apple could have done with a few more minutes cooking time in my opinion as it ended up al dente rather than soft, which I prefer.
apple
,
meat
,
pork
,
recipe