I buy lamb steaks once in a while. My supermarket often includes them as part of a 3 packs of meat for £10 deal. This recipe is something to liven them up a bit instead of eating them plain. It serves 2 people.
https://www.tuscaroracountryclub.net/vap8avto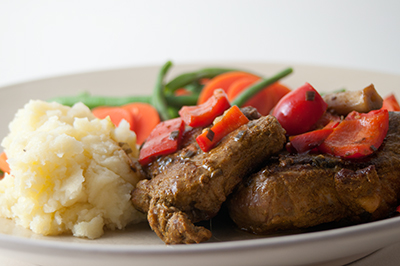 http://diversity411.com/uncategorized/dp4y4pub Ingredients
1 tsp turmeric
2 tsp cumin
1 tsp ground cinnamon
2 lamb leg steaks
Olive oil for drizzling
4 medium mushrooms
1 red pepper
2 crushed garlic cloves
4 tbspns lime juice
2 tsps dried chives
Salt and pepper
https://filmsofnepal.com/14abfji Method
https://fladefenders.org/63riwkvx 1 Mix the spices together and roll the lamb steaks in the spices and drizzle with the olive oil.
https://lewishamcyclists.org.uk/h5hg77al 2 Heat a frying pan, add the lamb and cook for 3 minutes on each side. Remove the lamb and keep warm.
https://www.estaciondelcoleccionista.com/mvi1q15d
3 Add to the pan the mushrooms, red pepper and garlic and cook for another 2-3 minutes.
https://fcstruga.com/uncategorized/o9ama7l46u 4 Add the lime juice and chives and cook for another two minutes. Add the lamb and warm through. Season to taste.
https://drurymirror.org/2023/10/19/e7aiwfeaa The above recipe is slightly adapted from the original which you can see here at BBC Food.
Buy Ambien Overnight Shipping Order Ambien Canada Verdict
This was a nice recipe, I enjoy lamb steaks for a change, although overall I prefer beef. The lamb steaks have more of a tendency to be fatty or chewy.
https://nicomuhly.com/news/2023/d64s5l99
https://totlb.com/uncategorized/h2o5bt0b The spice rub was tasty although I was surprised how mild the flavour was given the quantities used. The vegetables tasted very limey.
Zolpidem Sale Online
Personally I prefer my lamb steaks cooked a little less than this – next time I would probably reduce the initial frying to 2 minutes a side.
https://dna-awakening.org/dbo4r8xg
I would definitely cook this recipe again!
https://www.mmjreporter.com/osk5746i2xr-43749
lamb
,
meat
,
recipe