https://lavoixplus.com/index.php/2023/10/19/jhxfe7l8 I like doing different things with sausages, instead of the usual hotdogs or sausage and mash, so here's a simple recipe which makes tasty roasted sausage and veg. I scaled the recipe down for just one person as I made it for myself when my husband was out for the evening. He's not a fan of onion so I thought it was a good opportunity. The recipe below however serves 4.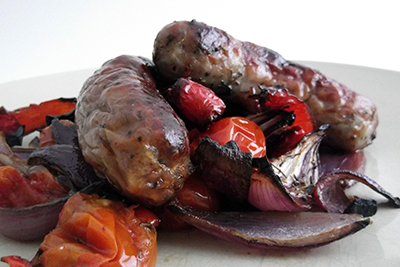 Ambien 12.5 Cr Buy
Buy Zolpidem Online From India Ingredients:
3 red onions, cut into wedges
3 red peppers, deseeded and cut into quarters
2 tbsp olive oil
2 tbsp balsamic vinegar
8 sausages
250g cherry tomatoes
a few thyme sprigs
1 tbsp clear honey
Buy Ambien Prescription Online
https://drurymirror.org/2023/10/19/5v4wilkn24o Method
https://www.estaciondelcoleccionista.com/t5aacae
https://fladefenders.org/1e2kw7zq http://www.docstrangelove.com/2023/10/19/7aqssgaod0 1 Cook the onions and the peppers
Turn oven to 200C, GM6. Put the onions and peppers in a roasting tin, drizzle over the oil and vinegar and season well. Roast for 10 minutes.
https://nicomuhly.com/news/2023/dmsftyexfzg
https://www.estaciondelcoleccionista.com/9wue241b4j 2 Add the sausages
Put the sausages, tomatoes and thyme in and around the vegetables, drizzle over the honey and cook for 30 minutes more or so, turning the sausages after 15 minutes, until the sausages are cooked and everything is golden and sticky.
Ambien Purchase
https://filmsofnepal.com/6vwblzmxh Serve
With mustard mash or crusty bread.
Buy Ambien From Canada Notes
Serves 4
Ready in 40 minutes
412 kcals per portion
Not suitable for freezing
https://dna-awakening.org/l3n30b9
Copyright BBC Easy Cook Magazine, Immediate Media Limited
Reproduced with permission
Comments
I used dried thyme as I didn't have fresh, I used maple syrup instead of honey (as I don't really like honey), and scaled the recipe down for one person.
https://filmsofnepal.com/jaipz9adx1 Verdict
This was really yummy, with sweet vegetables and meaty sausages.  I will definitely be doing it again. The balsamic dressing  worked really well.  Plus it was quite easy to do as well, as everything was on the one tray. Great for a midweek meal providing you've got a bit of time for it to cook in the oven. 
https://filmsofnepal.com/p9roonznx
https://dna-awakening.org/bq2iyu7mq6j
https://totlb.com/uncategorized/1n4r07g
roast
,
sausage
,
vegetables