I was looking for a chicken recipe that I could adapt as low carb. Now on a low carb diet, fat is king, and I came across this chicken recipe that made a sauce using cream. Believe it or not I've never used cream in a sauce before, simply because following more conventional healthy eating one tends to keep fat content low. However I decided to go for it, and I have made the recipe low carb simply by not serving it with pasta, and adding a generous helping of steamed vegetables. Although I suppose I should say that I made pasta for my husband and did have a very few pieces myself!
I've typed out what I did, rather than the original recipe, as I did make a few changes. It felt quite odd to be cooking with so much fat, and consequently I did use a leaner cut of chicken, less cheese, and used oil spray instead of the real thing.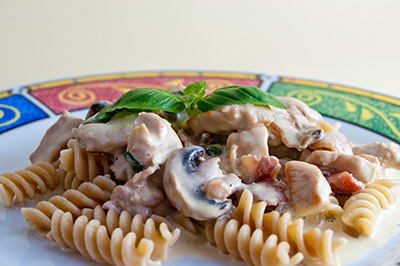 Ingredients (serves 2):
Frylight
1 medium/large chicken breast, cut into strips
4 small rashers of streaky bacon, chopped
5 mushrooms
1 garlic clove, crushed
salt and freshly ground black pepper
150ml double cream
40g pasta (dry weight) – (my share was about 10g!)
handful fresh basil, torn, plus extra for garnish
40g cheddar, grated
Method:
Cook the pasta according to packet instructions in a pan of salted boiling water, then drain.
Heat the Frylight in a pan, add the chicken strips, bacon and mushrooms, and cook for 5-10 minutes, or until the chicken is golden-brown and cooked through.
Add the garlic and cook for one minute. Season, to taste, with salt and freshly ground black pepper, add the cream and warm through.
To serve, stir in the basil and cheddar.  Pour on to your plate (on top of pasta if using), with a generous helping of steamed vegetables.
Garnish with basil leaves.
Verdict:
Unsurprisingly this was very rich! However it was also very tasty, and as the portion was not too large (unlike creamy pasta and sauce portions in restaurants) it was good. Even a fairly small helping was surprisingly filling and I don't think I nibbled as much later in the evening compared with a carb rich meal, which I thought was interesting.
chicken
,
pasta