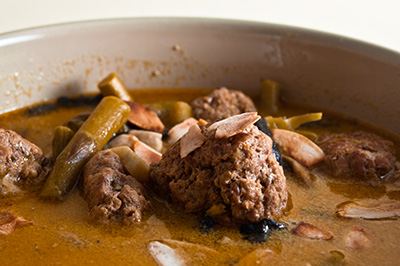 Ingredients:
500g pack turkey mince (ground turkey)
1 rounded tbsp korma curry paste
1 tsp groundnut, vegetable or olive oil
1 onion, finely chopped
500ml chicken stock
175ml reduced fat or light coconut milk
Large handful of sugar snap peas, halved on the diagonal
16 cherry tomatoes, halved
1 tbsp toasted flaked almonds
Few coriander leaves (optional)
Method
1 Make the meatballs
Mix the mince with 1 tsp curry paste and some seasoning. Shape into walnut sized meatballs. Heat the oil in a non stick frying pan. Fry the meatballs for 5 minutes, turning until they are browned all over.
2 Make the sauce
Heat the remaining curry paste in a pan. Add the onion and fry over a low heat for about 5 minutes, until soft – be careful not to burn the paste (add a splash of water if you need to). Pour in the stock and coconut milk and bring to the boil.
3 Simmer
Turn the heat down to low and add the meatballs. Cook for 10 minutes, or until the turkey is cooked through and the sauce has thickened slightly. Add the sugar snaps and tomatoes, and cook for another 2 minutes.
Serve
Scattered with the almonds and coriander, if using, and serve with rice.
Notes
Serves 4
Ready in 35 minutes
258 kcals, 11g fat, per portion
Suitable for freezing if full fat coconut milk used instead of reduced fat  
Copyright BBC Easy Cook Magazine, Immediate Media Limited


Reproduced with permission
My own substitutions and comments
I only used about half an onion but did add some mushrooms. I used full fat coconut milk. I used asparagus instead of sugar snap peas, and left out the tomatoes.
Instead of fresh coriander I always use Gourmet Garden coriander blend. Dried coriander is rubbish, and I struggle to use up fresh herbs.
I probably cooked this for an extra 10 minutes.
If you buy flaked almonds you will have to toast them yourself which is not mentioned above, but is easily done in a dry frying pan for a couple of minutes.
Verdict
Thankfully this tasted a lot nicer than it looked. It was very tasty. In general I tend to avoid turkey mince as it can quite bland but this recipe jazzed it up a bit.
It didn't really taste like a korma from an Indian restaurant but I suspect that they add a lot more fat and cream in restaurants!
My only issue with this recipe was how watery it turned out to be. My sauce didn't thicken that much and there was a lot of it. If I do it again I will reduce the amount of chicken stock used. Possibly the addition of mushrooms didn't help this.
I did however eat half and reheat half the following day.  Following gentle reheating of about 15 minutes with no additional added liquid the consistency was then about right
I would make this recipe again and its always nice to have something new to do with mince.
curry
,
mince
,
turkey