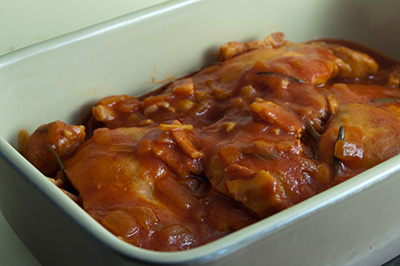 Ingredients:
2 tbsp olive oil
8 chicken pieces (a mixture of thighs and legs work well)
6 rashers streaky bacon, chopped
2 onions, sliced
2 rosemary sprigs
Two 400g cans plum tomatoes
2 tbsp red or white wine vinegar
1 tbsp sugar
500ml chicken stock
Method:
1 Brown the chicken
Heat the oil in a large casserole dish. Brown the chicken, a few pieces at a time, until the skin is golden on all sides. As each piece is done, lift out onto a plate. Turn the heat down and add the bacon. Cook until the bacon is crispy. Lift out with a slotted spoon and add to the chicken pieces. Add the onions and rosemary to the casserole and fry for 5-10 minutes until the onions are soft. Then return the chicken and bacon to the pan, along with the tomatoes, vinegar, sugar, stock and seasoning.
2 Simmer
Bring to a simmer, cover and cook for 40-50 minutes, until the chicken is tender.
Serve
With mash, pasta or rice.
Notes:
Serves 6
Takes 20 minutes plus 1 hour cooking time
806 kcals 54g fat
Suitable for freezing
Copyright BBC Easy Cook Magazine, Immediate Media Limited
Reproduced with permission
My own substitution and tweaks:
I halved the recipe and used it to feed 2 people. I only used half an onion, and I used chicken thigh fillets which were skinless and boneless. This reduces the calorie count.
Verdict
Very tasty! The vinegar and sugar in the sauce blended well with the tomatoes to give it a distinct flavour of its own. The chicken was lovely and tender.
Definitely one I will be doing again. There is nothing I would change next time. It did make a lot of sauce but then my chicken thighs were quite small – if I had used legs it would have been fine.
chicken