Yet another quick and easy weeknight chicken breast meal.  This particular recipe is good if you are eating late in the evening, because the chicken requires marinading first, and then is quite quick to cook.  View the original recipe here.  I have as usual made a few amendments.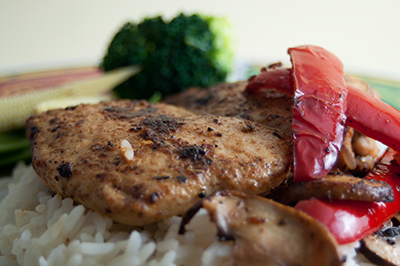 Ingredients (serves 2):
2 boneless chicken breasts
2 tablespoons Cajun seasoning
1/4 teaspoon pepper
1/2 teaspoon salt
1/2 teaspoon onion powder
1/2 teaspoon garlic powder
2 tablespoons vegetable oil
4 mushrooms
1 red bell pepper
Method:
1. In a bowl mix the seasoning with the oil.  This should form a paste – more oil can be added if required.
2. Slice each chicken breast in half leaving it attached on one side (butterfly style) – this will ensure it cooks properly later.
3. Rub the oily seasoning all over the chicken breasts and place them in a sandwich bag, or wrap in cling film, or in a bowl covered in cling film.  Place the seasoned chicken in the refrigerator for at least an hour, overnight if possible.
4. Grill or fry the chicken for around 8 minutes on each side, depending on the thickness of the chicken pieces.  After you have given the chicken a couple of minutes add the red pepper and the mushrooms to the pan as well.  Ensure the chicken is thoroughly cooked through before serving.
5. Serve with steamed rice and vegetables.
Verdict:
This was really tasty.  The marinade ensured the chicken didn't go dry.  If you don't like your food too spicy I would suggest you reduce the amount of the Cajun seasoning used.
This recipe would probably work well with other spices, for example barbecue, fajita, or chargrilled chicken spice mixes. 
/span
chicken