My fridge seemed to be full of peppers and mushrooms so this meal was a way of using them up.
Firstly, view the original recipe for beef stuffed peppers.  My recipe is below.  I made some minor amendments, the main one being that I couldn't get hold of antipasti roasted vegetables, and thought that sundried tomatoes from the same section in the supermarket would be nice.  Also, we don't like cooked celery, so I missed that out.
Retrospectively I note that I forgot to cover the peppers with foil after putting the mince in – which would be why my mince went a bit dark brown in places. It tasted fine though.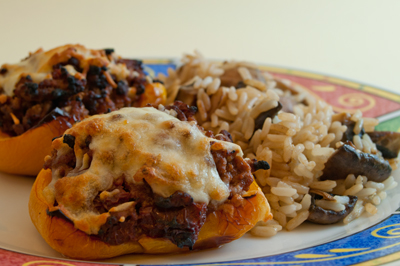 Ingredients (serves 2):
250g lean minced beef
2 large yellow peppers
Frylight
2 cloves garlic, peeled and finely chopped
60g sundried tomatoes, roughly chopped
100ml tomato passata
1 tsp dried oregano
Salt and freshly milled black pepper
Some grated mozzarella
Method:
1. Preheat the oven to gas mark 6, 200°C, 400°F.
2. Cut the peppers in half lengthwise and scoop out the seeds and membrane. Place on a baking tray, spray with the Frylight and roast for 15 minutes.
3. Meanwhile, heat a non-stick saucepan and dry fry the mince with the garlic for 3-4 minutes, until the mince is brown, breaking up any lumps with the back of a spoon.
4. Drain any excess meat juices from the pan. Add the sundried tomatoes, passata, oregano and seasoning.
5. Remove the peppers, add the filling, cover with foil, and continue to cook for a further 10 minutes.
6. Sprinkle over the cheese and return to the oven for a further 5 minutes or until the cheese melts.
Secondly, this is the original recipe for mushroom rice.  I did play around with this a bit.  I'm not eating white rice at the moment, and my husband doesn't like onions.  So I prepared one lot of mushroom rice without onions for him, and mushrooms with onions only for me!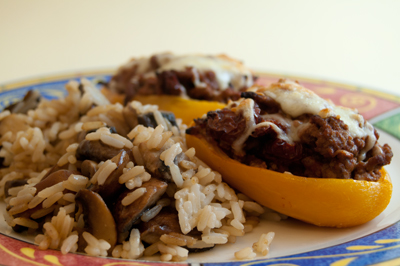 Ingredients:
10 chestnut mushrooms
1/2 medium onion, diced
2 large teaspoons of olive spread
40g (dry weight) cooked rice
Soy sauce, to taste
Salt
Freshly ground black pepper
Method:
Saute the mushrooms, 1/2 in one frying pan and 1/2 in another, in olive spread, until soft. In one pan saute the onion as well.  When fried, stir rice into the other pan.  To both pans add the soy sauce, salt and pepper.  Cook until warmed through.
Verdict:
This was all really tasty, I have no complaints or quibbles with any of it.  I would definitely do it again.  Next time I would try and remember to put the foil over the peppers, and I might try and get slightly larger peppers.
bell pepper
,
mince
,
mushrooms
,
recipe