So thought it was a good idea to make a red thai curry.  You bought the jar of paste.  You followed the recipe on the back and made your curry.  Now you have three quarters of a jar of red thai curry paste left, and whilst you enjoyed the curry you don't want another three within the next month.  So what do you do with it?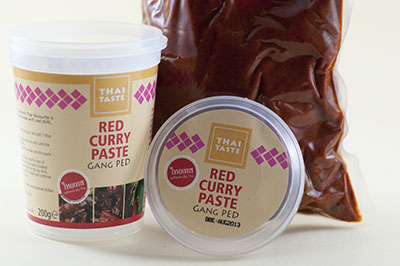 Firstly, this particular pot of red thai curry paste which I bought says on the back that it freezes.  I don't remember seeing that on the shop's own brand that I bought last time.  So you could put it in the freezer in an ice cube tray, and make red thai curry paste ice cubes which you can use next time you fancy a red thai curry.
Failing that, here are three other ideas for using it up.
As a topping:
Red Thai Tuna Steaks (serves 2)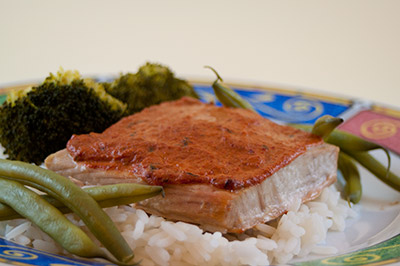 Pre heat the oven to 190 C.
In a ramekin mix together one heaped tablespoon of red thai curry paste, one heaped tablespoon of  natural full fat yoghurt and some coriander leaves (cilantro).
Take your tuna steaks, and place in a dish.  Spoon the red thai mixture over the top of the tuna steaks and spread it out so it covers the top.
Bake them in the oven for 25 minutes.
Serve with rice and steamed vegetables of your own choice.  Don't do too much rice as there is not a lot of liquid in this dish.
As a sauce:
Chicken with Red Thai Sauce (serves 2)
Cook your chicken breasts by your preferred method (one per person) – I grilled mine for 25 minutes, or you could bake them in a dish for 30 minutes, or bake wrapped in foil for 35 minutes.
To make the sauce:
Heat up 1 tablespoon of olive oil.
Add 1 tablespoon of red thai curry paste and fry the paste for a couple of minutes so that it sizzles.
Stir in 125ml of coconut milk and 2 tablespoons of lime juice.
Simmer on a low heat for 5-10 minutes until the sauce reduces to the desired consistency.
Stir in some coriander leaves or paste.
Serve over the cooked chicken, with some rice and steamed vegetables.
As a marinade:
Red Thai Steak with Minty Yogurt Dressing (serves 2)
Mix the following ingredients together in a small bowl:
1 tablespoon of red thai curry paste
1 tablespoon of full fat natural yogurt
1/2 tablespoon of lime juice
1 crushed clove of garlic
1 teaspoon of brown sugar
a few drops of fish sauce (nam pla)
Take your steaks and chop them into large pieces.
Place the steaks and the above marinade into a ziplock bag, mush it all up a bit, and leave it in the fridge for a couple of hours.
You can make the minty yogurt dressing in advance and leave it in the fridge:
Mix together 2 heaped tablespoons of full fat natural yogurt, with some chopped mint leaves, chopped coriander leaves and some salt and pepper.
When you want dinner, fry the steaks to your taste – I like steak medium rare, so depending on the thickness thats 2-3 minutes per side.
Serve with the yogurt dressing and some steamed vegetables, and new potatoes with butter. 
chicken
,
red thai curry paste
,
steak
,
tuna steak