I tend to buy quite a lot of lean minced beef (ground beef).  Its always on some kind of offer in the supermarket, and I rarely get tired of bolognese, lasagne or shepherd's pie.  Every now and again though I fancy a change and go and hunt up a new minced beef recipe.
So I was intrigued by this recipe I found for minced beef curry and decided to give it a go.  I changed the ingredients slightly to suit what I had in the fridge:
Ingredients (serves 2)
250g lean minced beef
1 small slice of onion finely chopped
3 mushrooms, chopped
3 florets of cauliflower
small piece of butternut squash
1 tablespoons olive oil for frying
1 clove garlic, crushed in a press
4 bird's eye chillies
1/2 tablespoon ground cumin
1 teaspoon ground coriander
dash of cayenne powder
1/2 a 400g tin peeled and chopped plum tomatoes
pinch of salt
50ml water
Method (as adapted from the original to suit my ingredients):
Heat the oil over a medium heat and add the onion when hot, stir and fry for 5 minutes or until the onion just starts to brown.
Add the crushed garlic and chopped chillies, stir and fry for a further minute.
Add the meat and continue to stir and fry until the meat has lost all its pink color, make sure that it is well broken up.
Reduce the heat slightly and add the ground spices and cayenne, and the chopped mushrooms, continuing to stir and fry for 3 minutes ensuring that all the meat is well coated in spice mix.
Stir in the chopped tomatoes and salt, continue heating whilst stirring occasionally until the mixture is back to a gentle boil.
Add the cauliflower and butternut squash and stir. If the vegetables are not completely covered by liquid, add some of the water until they are.
Bring back to the boil, cover and simmer gently for 35 minutes.  Check and stir frequently during this time.
Result: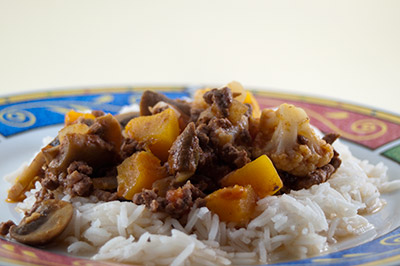 Overall I enjoyed this recipe.  It was something different to do with mince, and it was tasty.  However it didn't taste a lot different from chilli con carne – it just  had different vegetables and no red kidney beans.
It also came out quite watery.  I often seem to have this problem when using tinned tomatoes.  I think probably the answer is that such dishes really need to sit and simmer for an hour or so at least to reduce the sauce down, but I don't often have the time for that.  If I do bolognese I tend to use passata which is thicker and seems to get round this problem, but I like to try and follow new recipes by the book as much as possible to begin with.
I also forgot to stir in any coriander right at the end – that might have differentiated it from chilli.  I'm terrible with instructions that have to be left right till the end until serving.  I so often forget to stir in the final herb or ingredient!
beef
,
curry
,
mince
,
recipe