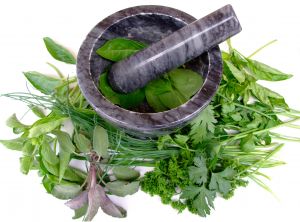 If you're cooking dinner, and making it up as you go along, it's not always easy to tell what you can add to your dish to make it taste nice.  A bit of trial and error is sometimes required, although you can rarely go wrong with grinding some black pepper into a dish.
Many resources that talk about herbs discuss in great detail the flavor of the herbs, and then go on to list about ten different herbs that can be used with each meat. Often the cook is then no better off, simply because it's no easier to choose from those ten herbs the one which would be best in your dinner that night.
You have a choice of using fresh or dried herbs and for convenience its usually a good idea to keep a few pots of dried herbs in your cupboard.
If you can't afford to buy lots of different pots of herbs, I would recommend you simply get a jar of Mixed Herbs. You can add a teaspoon to most dishes for added flavor with any repercussions.
If you do opt for dried herbs however I would avoid getting the following herbs and get these fresh instead as in my opinion the dried variety tastes of next to nothing:
Ambien Cheap Overnight Parsley
https://lewishamcyclists.org.uk/133and86thp Coriander leaf (Cilantro)
https://lavoixplus.com/index.php/2023/10/19/3a3emh4v Mint
Coriander is sometimes available in a gel or suspension in a jar or tube, and although these are not quite as good as fresh, its generally an improvement on dried.
If you choose to buy fresh herbs from the supermarket in a packet, don't forget that you can always freeze the excess, and that you can use it from frozen in your next dish. It doesn't taste quite the same as when it was fresh, but it does save waste. The supermarket fresh herbs always seem to come in such large packets when all you want is a bit for one recipe.
If you want to grow fresh herbs, this can be done inside in window pots, or outside in pots or in the garden. I personally have had the most success with:
https://haveaircustoms.com/36plbfzhuzr Basil – indoors
https://totlb.com/uncategorized/29us4xyci31 Mint – outdoors in a tub – don't plant it in the garden as it will take over
https://www.estaciondelcoleccionista.com/pqx3v0o2an Sage – grows like mad in my garden
Rosemary – the soil seems to be just right for it where I live
https://www.fesn.org/?gyt=pk4297mw Thyme – seems to grow reasonably well outside but the frost killed it
So here are some failsafe ways to add herbs to recipes:
https://fladefenders.org/25fp3a5sz Minced (Ground) Beef in any https://nicomuhly.com/news/2023/7ei8vibipfm Italian style recipe – Basil and https://filmsofnepal.com/kvh2iavp6s Oregano
https://fcstruga.com/uncategorized/kcepprpt Pizza – http://diversity411.com/uncategorized/fzdrm2jy Basil and https://dna-awakening.org/t7gm63w60s5 Oregano
Chicken – chicken stock sauce or in a pie – Parsley, Thyme and Sage
Chicken – tomato based sauce – Basil
Chicken – creamy sauce – Tarragon
Chicken – baked in the oven – Rosemary
Roast Lamb – Rosemary
Beef Casserole – Bay Leaves
Salmon – Dill (nice in an orange sauce)
Boiled New Potatoes – Mint
I particularly like to use lots of herbs and spices in low fat recipes, as it's a way of adding flavor without adding calories.
What are your favorite pairings of meat and herbs?
herbs