I love the idea of making curry from scratch but most of the time find myself picking up a jar of Patak's curry paste instead.  So in order to get back to basics I've had a go at this recipe for Chicken Bhuna from BBC Good Food.  I have never used fennel seeds before so I had to go out and buy a jar.  I'm writing this bit of the post before making the curry, and I hope it doesn't turn out weird as the aniseed flavour the fennel seeds give off is extremely strong!
Ingredients (serves 4):
sunflower oil
2 medium onions , halved and finely sliced
4 garlic cloves , finely chopped
25g ginger , peeled and finely chopped
2 green chillies , finely chopped (take out the seeds if you like)
2 heaped tsp cardamom pods , seeds crushed
2 tsp ground cumin
2 tsp ground coriander
1 tsp fennel seeds
juice of ½ lemon
4 skinless chicken breasts , cut into pieces
400g tin chopped tomatoes
The method can be found  here.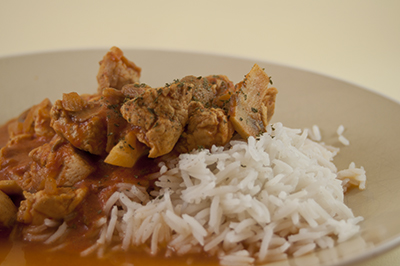 The changes I made to the recipe were: I added half the amount of onion, and also put in some mushrooms.  I used slightly less cardamom as the amount specified seemed like an awful lot.  I used passata instead of tinned tomatoes, and I also stirred in a spoonful of full fat natural Greek yogurt.
The bit of curry cooking I have done has taught me that a low fat curry recipe can taste like its lacking a little something and the spoonful of yogurt just adds a slight creaminess which vastly improves the flavor.  In the taste versus calories war it seems like the best compromise to me.
It turned out to be a really tasty recipe, it was a nice light curry, and the aniseed flavor (thankfully) turned out to be quite subtle and very pleasant.
I will definitely be doing this one again.

chicken
,
curry