So you've got guests coming for dinner, or you want to make something a bit special for your other half or family, but you're tight for time.  An easy way to make a meal special is to do a starter.  A three course meal automatically sounds impressive, but it can be very easy to whip up a quick tasty starter.  Often you can do them in advance which saves time later.  Here are my top five suggestions for quick and easy starters:
Note: all these starters are for two people, so multiply the quantities if you want to do more!
Avocado and prawn salad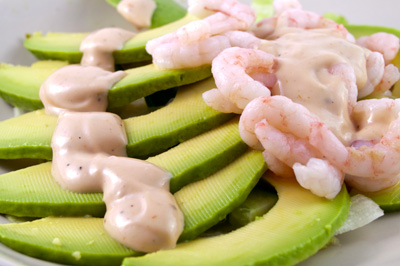 For the salad you will need: one ripe avocado, some crisp lettuce, some cucumber, and some cooked prawns – as many as you want to eat!
Its nice to make Marie-rose sauce to go on top, but if you don't want to bother with that, any dressing from a bottle is good – a vinaigrette, or a fruity dressing will go nicely.
Marie-rose sauce (mix all these ingredients together – go easy on the last three items, add a drop and taste, then add a bit more to get to your required taste):
4 tablespoons mayonnaise
1 tablespoon tomato ketchup
Lemon juice
Black pepper or Tabasco sauce
Worcestershire sauce
Chop up the lettuce and cucumber and lay it on the bottom of the plate.  Slice the avocado and lay it on top of the salad.  Scatter the prawns over the top.  Drizzle your Marie-rose sauce or dressing over the top.
Smoked salmon and cream cheese rolls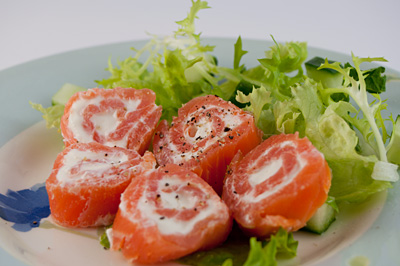 You will need: some crisp lettuce and some cucumber, a 100g packet of smoked salmon, some cream cheese (full or half fat, not low fat), lemon juice, black pepper.
Arrange the chopped up lettuce and cucumber on the plate.  Separate the smoked salmon into layers and spread them out on a board or plate.  Carefully spread a thin layer of cream cheese over the smoked salmon.  Roll up the smoked salmon into a sausage shape.  Cut the "sausage" into slices, and arrange the "wheels" on top of the salad.  Drizzle a little lemon juice on top and grind a little black pepper over the top too.
You will need a light touch when spreading the cheese, and a sharp knife used very gently when chopping the "sausage" up.
Baked blue cheese mushroom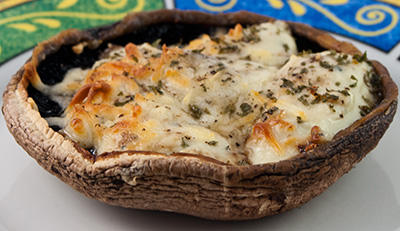 You will need: two Portobello mushrooms, crushed garlic, olive oil, salt and pepper, blue cheese, mozzarella, and parsley.
Preheat the oven to 200 C.  Drizzle the mushrooms with the oil and garlic and seasoning, and put them in the oven on a baking tray for 15 minutes. 
Then take them out and sprinkle the blue cheese and mozzarella on top and then the parsley and some black pepper on top of that.  Put them back in the oven until the cheese has melted – 5 to 10 minutes.
Pate and Melba toast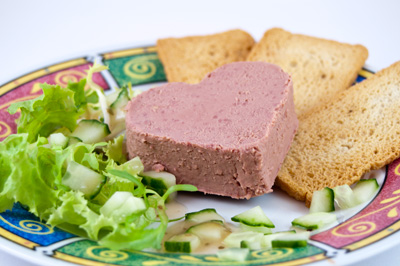 You will need: smooth pate, Melba toast (bought), some crisp lettuce and some cucumber, vinaigrette dressing.
Simply place a nice chunk of pate on the plate, with some Melba toast, and the salad.  To make it look nice, fan out the Melba toast, and try using a biscuit cutter to make the pate a fancy shape.  I used a star shape once – it was a bit fiddly but it looked good.  You could use a heart if it's for your loved one!
Melon with summer fruit sauce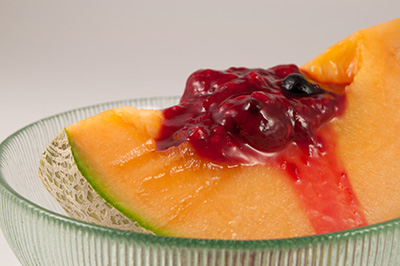 You will need: a ripe melon, some frozen summer fruits, crystallized ginger, a bit of sugar, some cornflour
Leave a handful of summer fruits out to defrost.  Later put them in a small saucepan, with a bit of sugar, the chopped up ginger, a bit of cornflour, and a drop of water.  Heat them up until the cornflour thickens the mixture.  Drizzle the summer fruit mixture over slices of melon.
Enjoy! 
avocado
,
melon
,
mushrooms
,
pate
,
prawns
,
smoked salmon
,
starter