This is a quick and easy stirfry recipe.  It works well if you are eating late because the meat needs to marinate first, and then the actual cooking only takes about 15 minutes.
I want to try and get away from using packet stir fry sauces.  This recipe is one step better than that, although not quite a completely from scratch recipe.  All the ingredients should be in your local supermarket.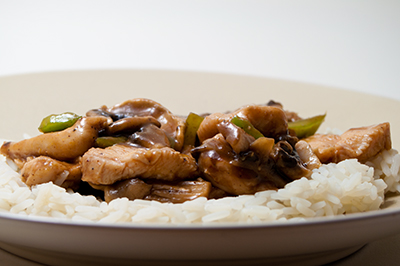 Ingredients (serves 2):
2 chicken breasts
6 mushrooms, sliced
1 bell pepper, chopped
3 tbsp oyster sauce
3 tbsp sweet chilli sauce
1 ½ tsp five-spice
1 tbsp olive oil
Method
Mix together 2 tbsp oyster sauce with 1 tsp five-spice and 2 tbsp sweet chilli sauce.
Toss 2 sliced chicken breasts in the mixture and leave to marinate for at least an hour.
Heat the oil in a frying pan, add the marinated chicken, the vegetables, and the remaining sauces and spices
Fry until the chicken is cooked through.
Serve with rice or noodles.
Copyright BBC Easy Cook Magazine, Immediate Media Limited
Reproduced with permission and adapted
Verdict
A flavoursome stirfry with a spicy kick to it.  Great for weeknights.  It would probably work well with other meats as well – pork strips or prawns. A variety of vegetables could be added to ring the changes, for example onion, mange tout, or beansprouts.
chicken
,
stirfry