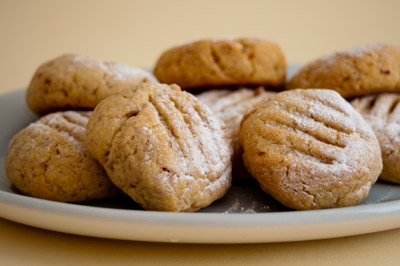 I have a jar of crunchy peanut butter in and I wanted to try a recipe out with it.  Currently my way of eating the peanut butter is off a teaspoon when I want a snack, so I thought I should try something slightly more adventurous! This is a quick and easy recipe for peanut butter cookies from the BBC Food website.
Ingredients:
8 tbsp plain flour
2 tbsp caster sugar
2 tbsp crunchy peanut butter
1 free-range egg yolk
50g/1¾oz butter, softened
icing sugar, for dusting
Method:
Preheat the oven to 180C/350F/Gas 4.
Place the flour, sugar, peanut butter, egg yolk and butter into a large bowl and mix together until combined to a smooth dough.
With lightly floured hands, break off evenly sized pieces of the dough and roll into walnut sized balls.
Place the dough balls onto a baking sheet lined with silicon paper or baking parchment and gently press each ball with the back of a fork to flatten slightly.
Place in the oven and bake for ten minutes, or until just turning golden-brown.
Transfer the cookies to a wire rack and allow to cool for ten minutes.
To serve, place on a serving plate and dust with icing sugar.
Comments:
I followed this recipe almost to the letter, everything was as written except the egg which was whatever I had in rather than free-range. My cookies needed 15 minutes in the oven to cook. 
These are tasty little biscuits, great for a snack or for putting in lunchboxes. The peanut flavour is subtle rather than intense – having never cooked with peanut butter before I wasn't sure how it would come out, but its nice.
cookies
,
peanut butter
,
recipe