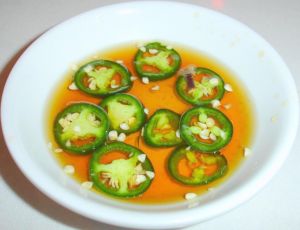 Ever tried a recipe and had it come out with a watery sauce? This happens to me quite frequently and I've devised a number of methods to both rectify this on the spot and to improve the recipe next time.
Rectification
Add cornflour (cornstarch). Make sure you dissolve it in cold water before adding it. It will go lumpy if you tip it straight in the pan. Don't overdo it or the sauce will taste floury.

Take the lid off, turn the heat up, and cook for a bit longer to try and reduce the sauce. Keep an eye on it and stir frequently so it doesn't stick to the bottom of the pan.

Eat it tomorrow instead. A night in the fridge helps solidify things, and they often have less liquid when reheating the next day.
Next time
If you are browning the meat at the start of the recipe, a couple of minutes before you add any liquid, sprinkle up to a tablespoon of plain flour on top of the meat and cook whilst stirring, .

Cook in a frying pan instead of a saucepan. The sauce will reduce down more quickly.

Cooking a tomato based dish? Add some tomato purée.

Cooking a meat based dish? Add some gravy granules.

Again, add some cornflour, as above, about half an hour before the end of the cooking time.
What are your top tips for getting a dish to the right consistency?
sauce