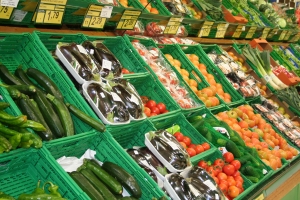 All the major supermarkets in the UK offer an online shopping service.  I've been using online shopping myself for probably about 8 years now so I've had plenty of opportunity to weigh up the pros and cons.
Advantages of online shopping:
It saves time – it used to take me and my husband an entire evening to do a shop – about three hours from getting in the car to having cupboards full of food.  Online shopping takes anywhere between twenty minutes and an hour to order, and say half an hour to put away.
It's less effort.  You only have to carry heavy items from your front door to your kitchen.
The customer service at the supermarket I use is excellent.  I only have to drop them a quick email or make a phone call about anything I'm not happy with in my shopping and I get an immediate refund onto my credit card with no quibbles.
Price match – if your chosen item is not available and a substitute is sent, you get the substitute for the same price as the original item.  Sometimes you can get unintentional bargains this way!
Disadvantages of online shopping: 
You don't get to choose your own produce or meat.  In all fairness I've had very little problem with this myself but it's still not quite the same as choosing your own.
The range of food may be slightly smaller than your own supermarket because it's a central website dealing with all the stores that participate in the online service, and not all stores are big enough to carry a full product range.
Substitutes and items that are not available – every shop I do has on average 4 substitutes and 1 item unavailable.  I probably keep half the substitutes and send the others back for a refund.  It's only really annoying when I needed a specific item for that day, as it's easy for me to stop by another smaller supermarket near to my workplace.  This could be a concern if you needed the item immediately and can't get to another shop.
On occasions I have ended up with a bag of someone else's shopping or with one of my bags missing.  You are a winner if you get someone else's as it's never worth their while coming to take it back if you didn't spot it at the time.  It's pretty annoying if yours is missing as then you have to check the lot and sort it out with them.  My supermarket never redeliver the bag – only give refunds.
There is always a delivery charge – normally between £2 and £5.
Verdict: 
I would recommend online shopping if like me you work full time and resent wasting an entire evening doing the food shopping.
Likewise if you have health problems and can't physically get round a supermarket I would recommend it.
I wouldn't recommend it if you are extremely picky about the specific items you want.  There will definitely be substitutes from time to time, probably not what you would have chosen yourself, and you may not like the cuts of meat, vegetables or use by dates chosen for you.
I also wouldn't recommend it if you don't have an option for picking up items that don't turn up.  If you plan to cook with say whipping  cream and end up with single cream and then have to waste an hour going to get the whipping cream – you may as well have gone to the shop in the first place.  It's difficult to place 100% reliance on the online shop.
So my personal verdict is an out and out yes because the time and effort saved in my opinion outweigh any disadvantages – but this may not be the case for everybody all of the time.  I also have a store credit card which gives me free delivery which is another positive for me.
What are your experiences with online food shopping?
shopping