Yet another recipe that involves cooking chicken on a weeknight in a fairly speedy fashion.  Have a look at the original recipe on the BBC Good Food website.  Below is the recipe with my own adaptations.  Like one of the commenters I added some red wine, and I didn't have garlic flavored tomatoes in so I just used a garlic clove separately and fried it with the meat at the beginning.
Ingredients (serves 2):
4 rashers streaky bacon, chopped into large pieces
2 chicken breasts, cut into large chunks
1 garlic clove, crushed
4 large mushrooms
1/2 tbsp plain flour
200g (half a tin) chopped tomatoes
100 ml red wine
1 beef stock cube
dash Worcestershire sauce
1 tsp dried parsley
Method:
Heat a shallow saucepan and sizzle the bacon for about 2 mins until starting to brown.
Throw in the chicken and the crushed garlic clove, then fry for 3-4 mins until it has changed colour.
Turn up the heat and throw in the mushrooms.
Cook for a few mins, then stir in the flour, and cook until a paste forms.
Tip in the tomatoes and the red wine, stir, then crumble in the stock cube.
Bubble everything for 10 mins, splash in the Worcestershire sauce, stir through the parsley, then serve with mash or boiled rice.
Result: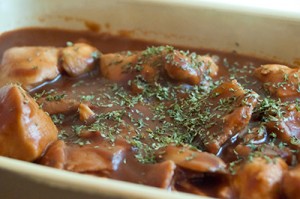 This was a very tasty dish.  I like adding a beef stock cube to a chicken dish, it gives a meatier flavor, and as its not typical it makes the dish have a taste all of its own.
I expect a proper chasseur recipe is more sophisticated, but for a simple midweek meal this can't be beaten.  The addition of the red wine probably improved the flavor compared to the original.   I would definitely cook this again.  
chicken
,
recipe